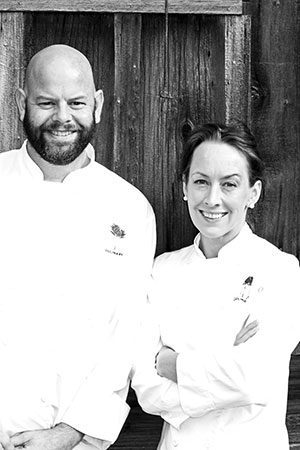 Christopher Greenwald
As the Chef/Owner of Bay Laurel Culinary, Christopher Greenwald combines his years of experience in the kitchen and on the farm with his passion for travel and different cultures, to present wine friendly global comfort cuisine that is both casual and elegant. No matter the setting — from a fundraiser for hundreds, to an intimate dinner at home — Chef Greenwald brings a versatile eclectic style to the table that makes any event, large or small, a unique, personalized experience.
For five years, Chef Greenwald was the Executive Chef at Iron Horse Vineyards, where he paired organically grown produce from the winery's extensive gardens and sustainably raised meats and fish from local sources with estate wines from the Green Valley region of Sonoma County. During this time, he cooked for a number of important visitors to Iron Horse, including: Lynn Woolsey, Theresa Heinz-Kerry and Governor Gray Davis. His recipes have been published in the San Francisco Chronicle, Santa Rosa Press Democrat, Savor Magazine, Secret Eating Society, and Wine Country Living and he has been a guest chef at Relish Cooking School in Healdsburg and Ramekins in Sonoma. Chef Greenwald represented Iron Horse at food and wine seminars featuring top regional American chefs and sommeliers at Charlie Trotter's in Chicago and Aureole in New York as well as at the Iron Horse Vineyards. In addition to numerous events, Chef Greenwald has been the private chef to the Sterling family creating small, intimate meals with an emphasis on healthy, organic cuisine from local and regional small farms.
A graduate of the California Culinary Academy, Greenwald began his professional career at Joyce Goldstein's famed Square One restaurant in San Francisco, learning the importance of raw ingredients in a refined finished product. Greenwald moved to Austin, Texas in 1996 and began working at Jeffries Restaurant & Bar, cooking eclectic Southwestern cuisine with French techniques and quickly moved up the ranks to become Sous Chef and an important decision-maker for the eatery's daily set menus. Although facing a very bright future in the capital of Texas, Greenwald's home was California, and he was attracted to Sonoma County for its vast riches in food and wine.
A supporter and volunteer of Share Our Strength and Chefs Collaborative, Greenwald started the Organic Garden Project in 1998 with help from Alice Waters' Chez Panisse Foundation, teaching troubled youth in Sonoma County the rewards of growing, cooking and appreciating natural food. "It was a way for me to give back some of what others had given me along my culinary journey, a way to continue the cycle," he explained. There, he spent three years teaching at risk youth to grow and cook their own food, nourishing their bodies and minds with the fruits of their labor. In 2002, Greenwald joined a small catering company in Santa Rosa and freelanced as a chef for prestigious wineries and private homes in Napa and Sonoma prior to joining Iron Horse in 2003. A world traveler, Greenwald loves to explore exotic locals in search of rare and unique products that enhance his menus. Using Sonoma County's fabulous regional products he infuses a worldly influence with local ingredients to create memorable, world-class cuisine.
Ciara Greenwald
Classically trained at the Culinary Institute of America in St. Helena, California, Chef Ciara Greenwald has been involved with food since her early days.  A native of Dublin, Ireland, Ciara spent much time learning the deep connection between sustainable growing, living well, and creating gastronomic experiences for friends and family in her home country.  In addition to Dublin, Ciara has lived in Tokyo, San Francisco, and Healdsburg and has travelled extensively through Europe, Asia, and South America.  These distinctive experiences honed her appreciation for a culinary lifestyle that includes food and wine.  She previously worked under James Beard award-winning Chef Michael Tusk at Quince in San Francisco. She further developed her Italian cuisine skills at Diavola in Geyserville and currently leads classes on a variety of topics at Relish Culinary Adventures in Healdsburg.  Ciara is the consulting Chef at Iron Horse Vineyards, where she creates food and wine pairings, recipes and culinary events showcasing the winery's still and sparkling wines. Her professional experiences include a decade in wine marketing in Sonoma County and she is currently a partner in Aldrich Browne, a small wine label making wines from the vineyards of the Mendocino Ridge.
Ciara has worked with Bay Laurel Culinary since 2012 and enjoys being part of a boutique catering company where creativity and a focus on Sonoma County ingredients combine to create one-of-kind events for customers.