Stock up on our gourmet to-go freezer food today.
Meticulously sourced ingredients, cooked from scratch, packaged for your convenience. Heating instructions included.
No 48-hour notice required. Order & pick-up freezer items the same day (Weds-Sat).
First come, first served – we do sell out of certain items very quickly, so e-mail your orders in here.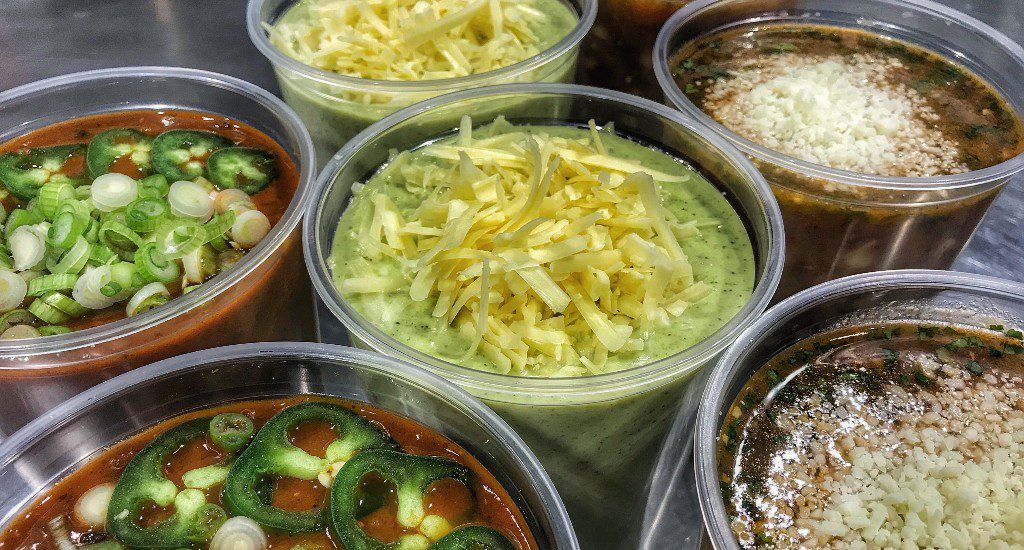 NEW THIS MONTH:
Chicken Vegetable Green Curry Noodles – lime leaf & coconut milk $26
Bistro Chicken & Vegetable Soup – smoked bacon & basil pistou  (1 QT) $20
Rancho Gordo Black Beans – Cagginao chorizo & epazote (1PT) $12
Corn Chowder (gf/v) – potato, poblano, cream & green onions (1 QT) $18
Green Olive Puttanesca Orecchiette (v) – caramelized cauliflower, feta & basil $24
Coconut Curry Chicken Meatballs (gf/df)  – ginger, garlic, cilantro & chives $26
SOUPS & SNACKS
Classic Tomato Soup (gf/df) – early girl tomato, basil & EVOO (1 QT) $18
Porcini Mushroom Soup – cognac & leeks (1 QT) $18
5 Chile Chili (gf/v)– Rancho Gordo pinquito & black beans (1 QT) $18
Sonoran Red Chili (gf) – turkey & Rancho Gordo rojo domingo beans (1 QT) $20
Hatch Green Chili Pork – fire roasted peppers & cilantro (1 pt) $20
Rancho Gordo Black Beans (gf) – Cagginao chorizo & epazote (1PT) $12
White Cheddar Steamburgers – BLC onion jam & wonder rolls (1/2 dozen) $50
ENTREES:
Chicken Pot Pie – heritage breed chicken, all butter crust $22
Italian Sausage Orecchiette – vodka pomodoro, pecorino & rosemary  $26
Lamb Ragu Orecchiette  –  annina eggplant, bechamel, Pecorino & fennel  $26
Crimini Mushroom Strozzapreti (v) – Bellwether Ricotta & Italian Parsley $24
Polenta Bolognese (gf) – Italian polenta, BLC bolognese & Pecorino Romano  $26
Chicken Enchiladas Verdes (gf) – heritage breed chicken, tomatillo sauce & cheese  $26
Ciara's Pork & Beef Meatballs – pomodoro & Pecorino Romano $26
QUESTIONS?
Call us @ 707-981-8100