Here at Bay Laurel Culinary, we take a unique approach to menu crafting and event planning. Our inventive seasonal menus are inspired by artisanal produce from the small local farms of Sonoma County, and the foods we create are often infused and elevated with flavors culled from our travels among the world's exotic cuisines.
Furthermore, we take great pride in our event styling and presentation, which goes above and beyond to create a fine dining experience for your guests.
But these are not the only things that set us apart.
What truly defines Bay Laurel Culinary is the intimate level of service and hospitality you will experience the moment you reach out for us.
Chefs Chris and Ciara Greenwald personally spend time getting to know you, because we want to craft not just an event but an experience — one that is unlike any other because it is tailored uniquely to you and your guests.
From rustic backyard dinners to exquisite intimate weddings to backstage parties for some of the biggest names in the music business, Bay Laurel Culinary will work hand-in-hand with you to create the event you envision — the one you have always dreamt of.
Centrally located in Petaluma, we work with clients all around the Bay Area—from Sonoma, Napa and Marin to San Francisco and the East Bay.
Personal Chef Services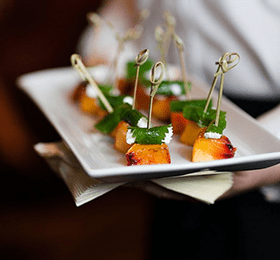 Personalization is our specialty.
We create beautiful events in our clients' homes, from sumptuous multi-course tasting menus to rustic family-style barbecues. Let us take care of everything to create a memorable meal for you and your guests. We also offer drop-off services for clients to enjoy our carefully crafted meals at their leisure, offering unique menus to incorporate your taste preferences and dietary needs
"Bay Laurel catered a beautiful luncheon given by some friends in Healdsburg as a fundraiser for my non-profit. Every single detail was stunning, delicious and perfect. Could not recommend more highly! I can't wait to hire them for my 25th wedding anniversary."
– Paige R., San Rafael, CA, 4/27/17
---
Exclusive Private Events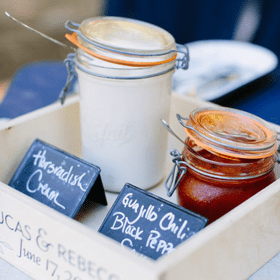 Customization is our specialty.
We get to know our clients and understand their vision. Whether your event will be held at a private estate, barn or vineyard, we have the expertise to bring your vision to life. We offer concierge-level service: in addition to executing your locally- and seasonally-driven menu, we are available to manage rentals, venue recommendations, staffing and logistics for events of all sizes. We book a small number of weddings each season, by referral.
"…The final product at our wedding was so tuned in to our tastes, so creatively and thoughtfully put together, so beautifully prepared, and so gracefully served, it could not have been better. Numerous guests independently came up to us to say this was the best food they'd had at a wedding. They were also so pleasant to work with all along the way, I actually miss them now. In short: perfect."
– Josh R., San Francisco, CA, 9/5/17
---
Winery Events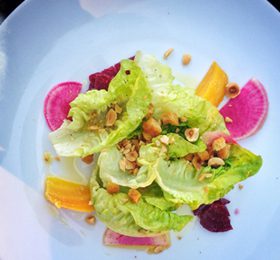 Wine expertise is our specialty.
From the heart of Northern California wine country, we provide our winery clients with a wide range of services and expertise. From wine club pairing seminars, harvest party pig roasts and intimate dinners for trade and consumer VIPs, to culinary content development for website and marketing materials — working with wineries fuels our creativity, allowing us to showcase your wines in the presence of food.
"From the first wine poured and throughout the dinner the guests were wowed & wowed again. So impressed with the food they were that they called for the chef after the 2nd course.  And don't let me go on about that couple.  Let's hire them and only them."
— Jeff Bundschu, Owner, Gundlach-Bundschu Winery

"They are very discriminating in terms of the types of events that they will undertake but can clearly deliver a superlative culinary experience & really understand the nuances of food & wine pairings."
— GM, Gary Farrell Winery
---
Corporate Events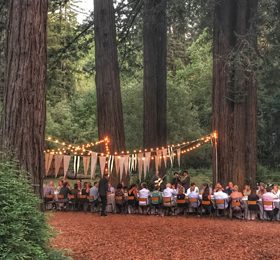 Executive service is our specialty.
Bay Laurel works closely with corporate clients to create unique experiences that fit the image of your brand. Some examples include picnics in Golden Gate Park, executive team wine country retreats, art gallery openings, holiday parties, hands-on cooking classes, sales team incentives, non-profit fundraisers and more. We work with Bay Area clients as well as international companies looking to hold events here in wine country.
"Thank you SO much for all of your hard work and accommodation last night and in the weeks leading to up to our event. Hands down, you guys are the most professional and all around fantastic caterers we've ever worked with at the SF location.  And the food!  OMG the menu and presentation was killer. All of our guests were freaking out over how good the food was. Thank you…… Loved working with you.  Hope to do so in the future!"
—Timothy Williamson, Store Manager, The Republic of Fritz Hansen

"We hired Bay Laurel Culinary for our board retreat at a beautiful estate in wine country. The entire process was a joy. Ciara was always a delight on the phone and there to answer questions from start to finish. Chef Chris was very personable and accommodating to the schedule of our break for lunch. The server who was assisting took the initiative and set up the outside dining area and set the table beautifully and brought out the plated lunch with grace and the type of service you would expect at a 4-star restaurant. And as we expected the food was presented beautifully and was delicious, healthy, fresh and local. All of the members of our board were thrilled to be treated so such a lovely lunch. I highly recommend Bay Laurel Culinary for your next catering or in home chef experience!!"
— Stephanie, San Francisco, CA, 4/2/17
---
To-Go/Delivery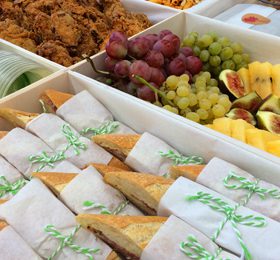 Exceptional to-go food is our specialty.
Did you know? The Bay Laurel Culinary team also offers seasonal to-go menus and local delivery. Drawing upon meticulously sourced seasonal ingredients, we create unique menus for pick up or delivery. Hosting a luncheon or dinner at home? Big meeting coming up? Our menus are designed to make things easy.
Perfect for home entertaining, we make hosting easy by doing all the heavy lifting … while you enjoy a private-stress-free event in your home. Please note, reservations are required, subject to availability with 48-hour notice.

---
Contact Us
Let us know how we can help. Use our online form to contact us.