Christopher & Ciara Greenwald share an obsession with good food, a passion for genuine hospitality, a wanderlust to see the world, & a keen entrepreneurial spirit.
Founded in 2008, Bay Laurel Culinary combines Chris & Ciara's years of culinary creativity, wine knowledge, & business expertise, focusing on the goal of providing guests with an exceptional seasonal culinary experience, using meticulously sourced ingredients. From whole pig roasts, chef's tasting menus, & cooking classes, to intimate weddings, pop-up dinners, & winery events, Bay Laurel Culinary prides itself on treating guests in a hospitable & memorable way. The BLC kitchen is located in Petaluma — halfway between Healdsburg & the Golden Gate Bridge.
Meet Christopher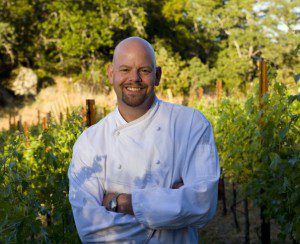 A graduate of the California Culinary Academy, Chris began his career at Joyce Goldstein's famed Square One restaurant in San Francisco. In 1996, he headed east to Austin, Texas, to join the kitchen staff at Jeffries Restaurant & Bar, cooking eclectic Southwestern cuisine with French techniques.
A Northern California native, Chris returned to California & started the Organic Garden Project in 1998 with help from Alice Waters' Chez Panisse Foundation, teaching troubled youth in Sonoma County the rewards of growing, cooking & appreciating natural food. In 2003, he joined Iron Horse Vineyards as Executive Chef, creating exquisite menus around the seasonal ingredients found in the estate's extensive gardens, paired with sustainably raised meats & fish from local sources with estate wines from the Green Valley region of Sonoma County. Christopher founded Bay Laurel Culinary in 2008, focusing on the freshest seasonal local ingredients to inspire his menus.
"Christopher and Ciara have catered multiple events for me over the past couple of years and all have been absolutely incredible.  They are both so wonderful to work with, their food is beautiful, creative and delicious, the staff is always lovely.  I've referred them for weddings, corporate events, dinner parties and everyone has always been blown away by how amazing they are.  Christopher and Ciara are not only incredibly talented, they are a joy to work with from beginning to end." — Katie C., San Francisco
Meet Ciara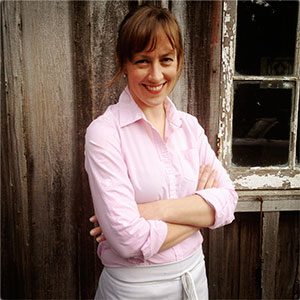 Ciara is a native of Dublin, Ireland, where she was schooled early in the deep connection between sustainable growing & meticulous ingredient sourcing. Ciara's career began in international marketing, which led her to the Sonoma County Wine industry in 2003.
Though her love for & knowledge of wine expanded, her passion for food & hospitality became her calling. She enrolled in the Culinary Institute of America in St. Helena, California, where she was classically trained as a chef. Before joining Christopher to run Bay Laurel Culinary in 2012, she worked under James Beard award-winning Chef Michael Tusk at Quince in San Francisco,  developed her wood-fired oven cooking skills at Diavola in Geyserville & was a consulting Chef at Iron Horse Vineyards.
When not in the kitchen, Chris and Ciara will likely be found travelling in some far-flung corner of the world, sampling the local fare to be tasted at markets and street stalls.
"They did a gluten free, dairy free and vegetarian menu for my daughter's birthday. It was fantastic. On time, set up and clean up was perfect, lovely staff. Bay Laurel was absolutely wonderful to work with." — Jeanne P., Healdsburg