We consider ourselves fortunate to be able to work all over Northern California's wine country and although harvest sucks up most of the headlines every year, springtime is our very favorite time to be working and cooking outside in the vineyards.  Whether it be under the oaks at Chimney Rock Winery for a blending seminar lunch, on the new terrace among the vines for Dutcher Crossing Winery's 10th anniversary dinner or a farm to table dinner in the garden at Quivira Winery, eating outside when the year is young, surrounded by nature, always adds a delicious element of excitement and wonder.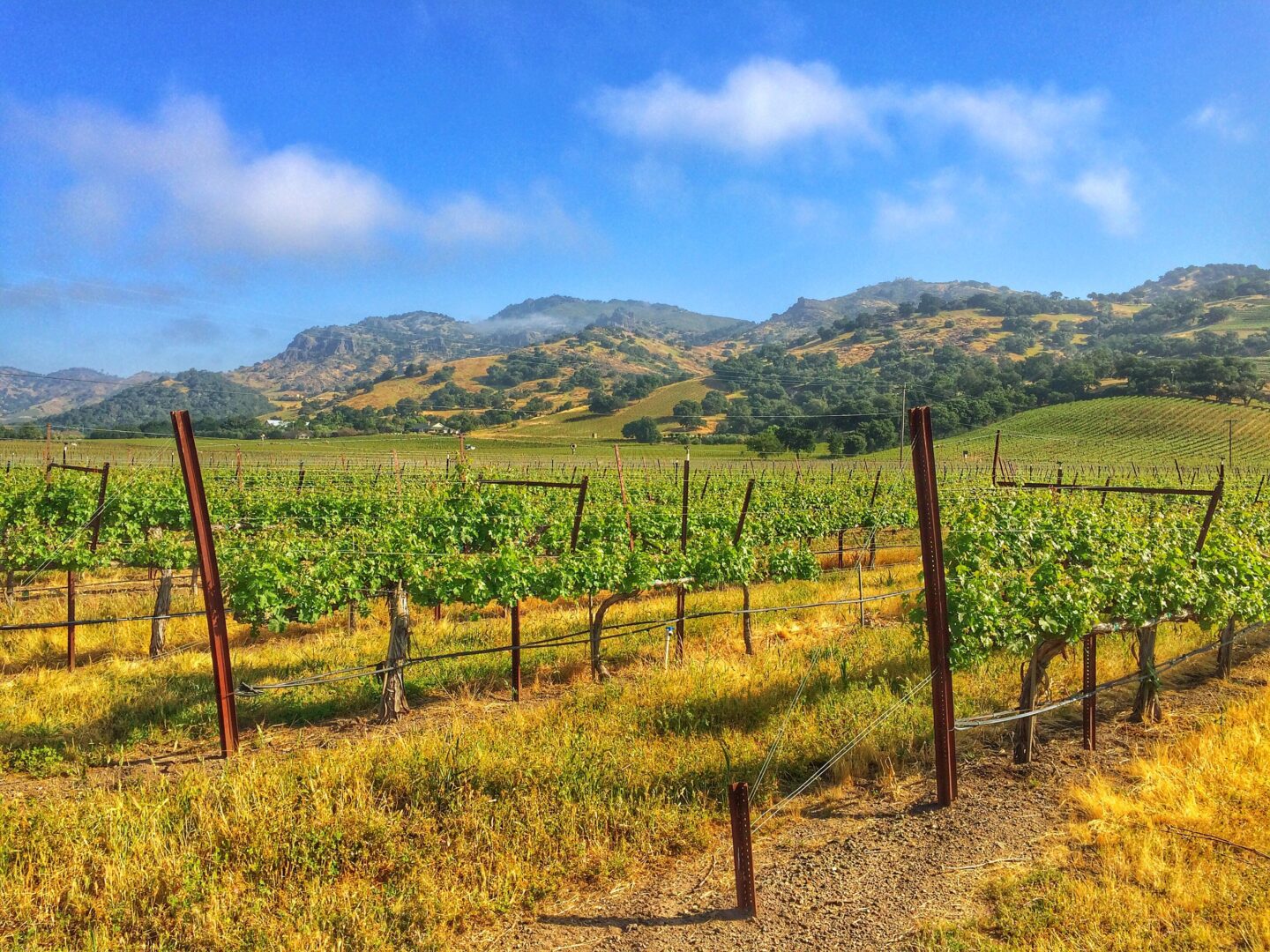 Nothing gets our blood pumping for an event like setting up an al fresco kitchen early in the morning while watching the fog lift in the valley…
Above is a shot looking north-east from behind Chimney Rock Winery.
Who says hors d'oeuvre served out in the open can't be elegant?
Sonoma county is renowned for its casual elegance. Its what makes us, us.
Above is our Wild Prawn Tataki with Black Sesame Seeds & Fresh Coriander Gently Placed on a Little Organic Farm Potato Chip.
My favorite way to start any meal is with soup. A wonderful way to welcome guests to the table, or in this case, the vineyard is with a seasonal 'shot' of chilled vegetable elixir.
Above is a spring and early summer favorite: Green Gazpacho with Straus Yogurt & Espelette Pepper.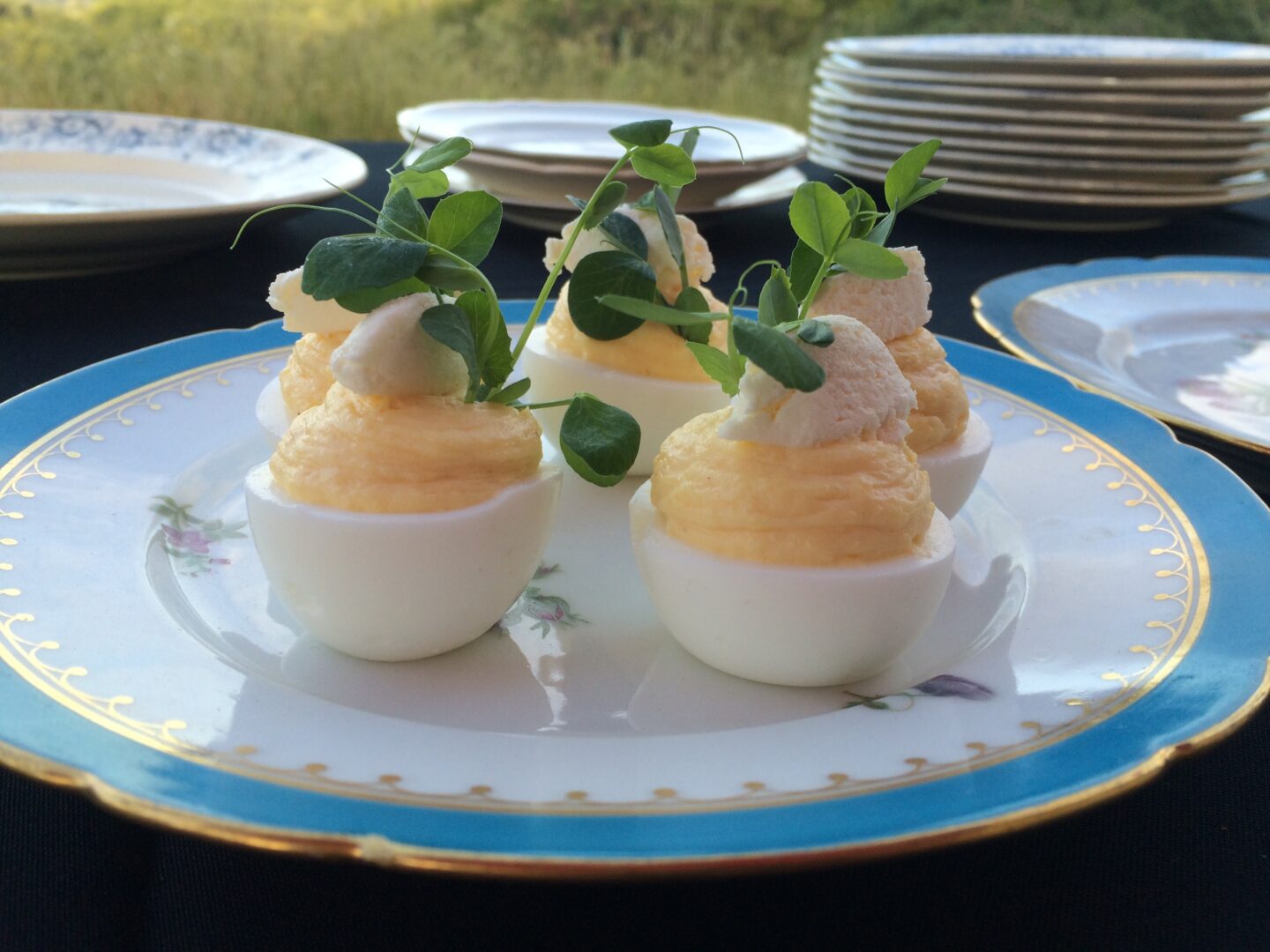 Based in Petaluma, eggs are an obsession with us and we definitely go crazy coming up with new ways to serve them. Above are Whipped Local Pasture Eggs with Cowgirl Creamery Fromage Blanc & Pea Shoots ready to be offered to arriving guests.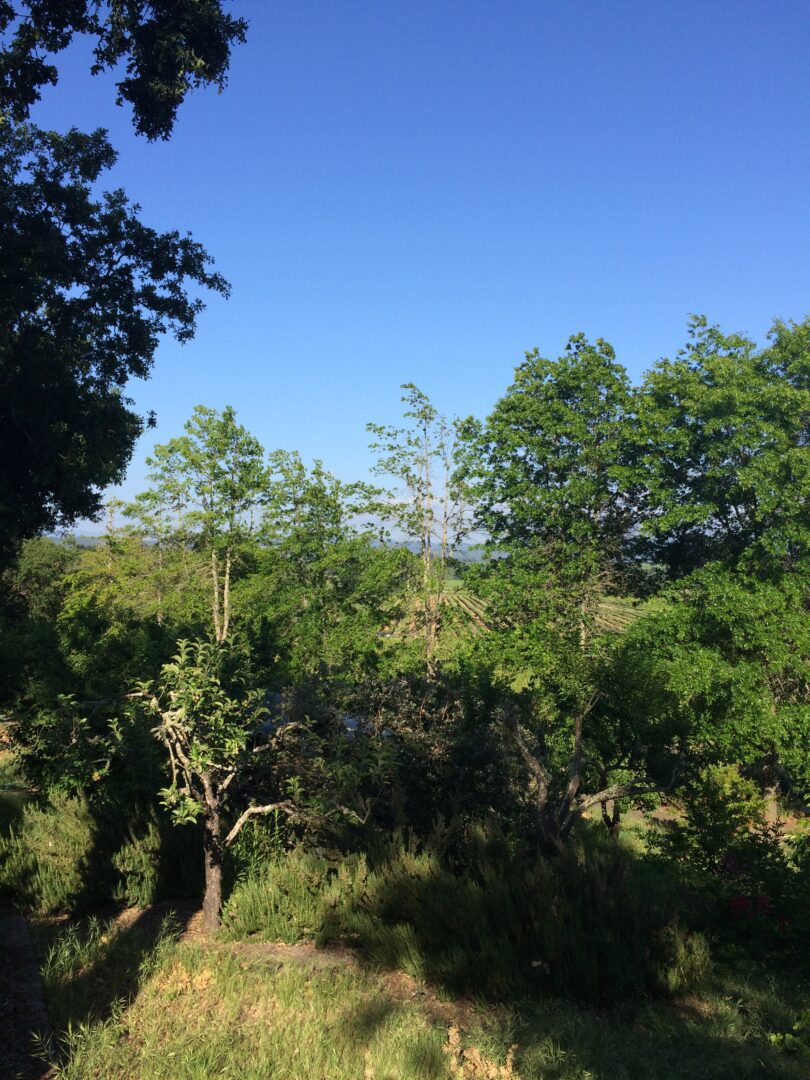 Above is a shot looking east over the heart of the Russian River Valley appellation. Working in vineyards also means working closely with the gardens that provide herbs such as rosemary, fruits and leaves from trees and, of course, much needed shade in the summer from coastal oaks that dot the hillsides of mature properties.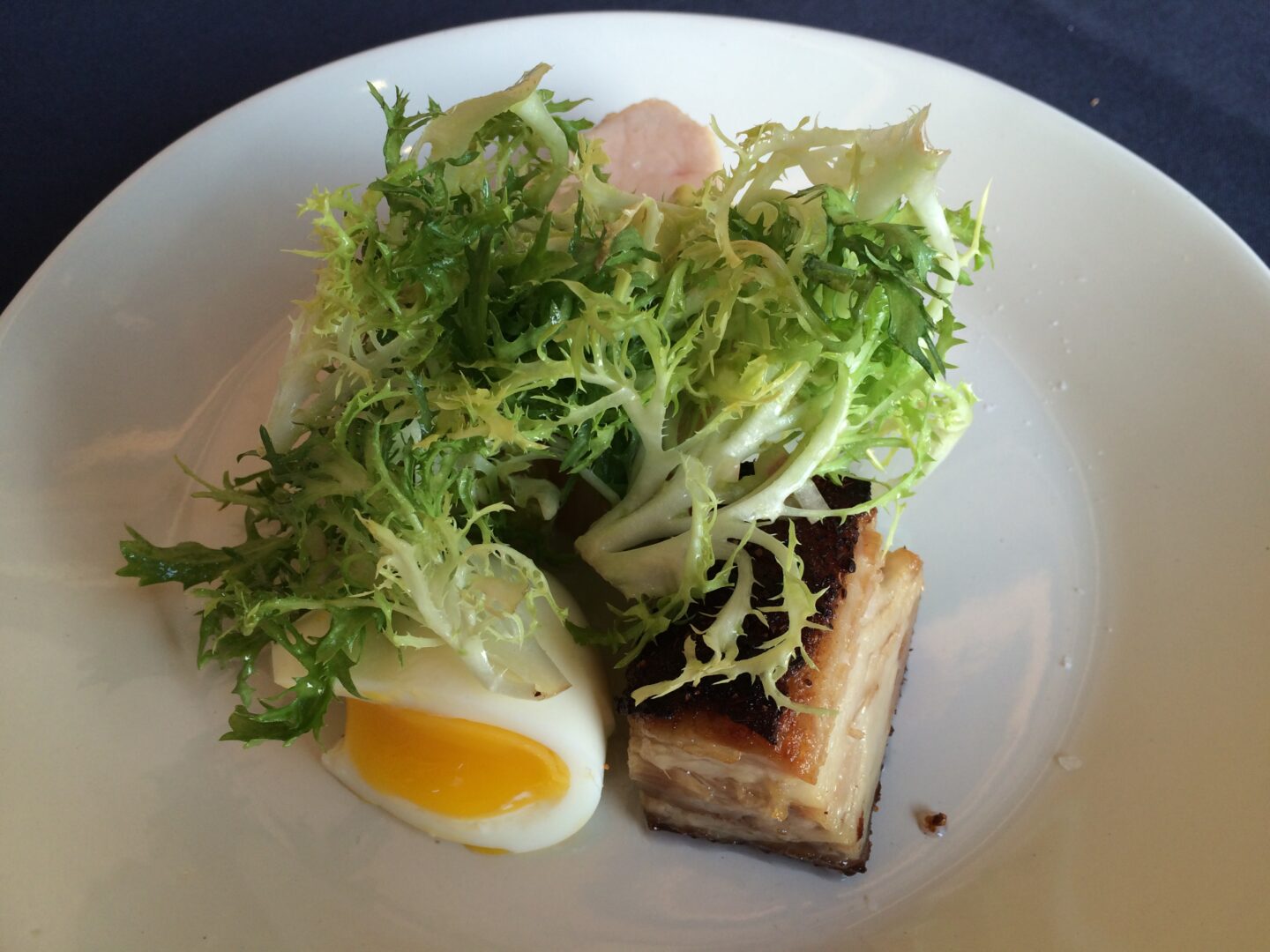 Composed salads often start the seated part of a vineyard meal. The texture of tender greens, richness from meat fats or olive oils and the brightness of the acidity in the dressings pair well with the crisp white wines and dry roses of the region. Above is Roasted Chicken, Cured Pork Belly & Soft Boiled Egg with Star Route Farms Frisee & Avocado Vinaigrette.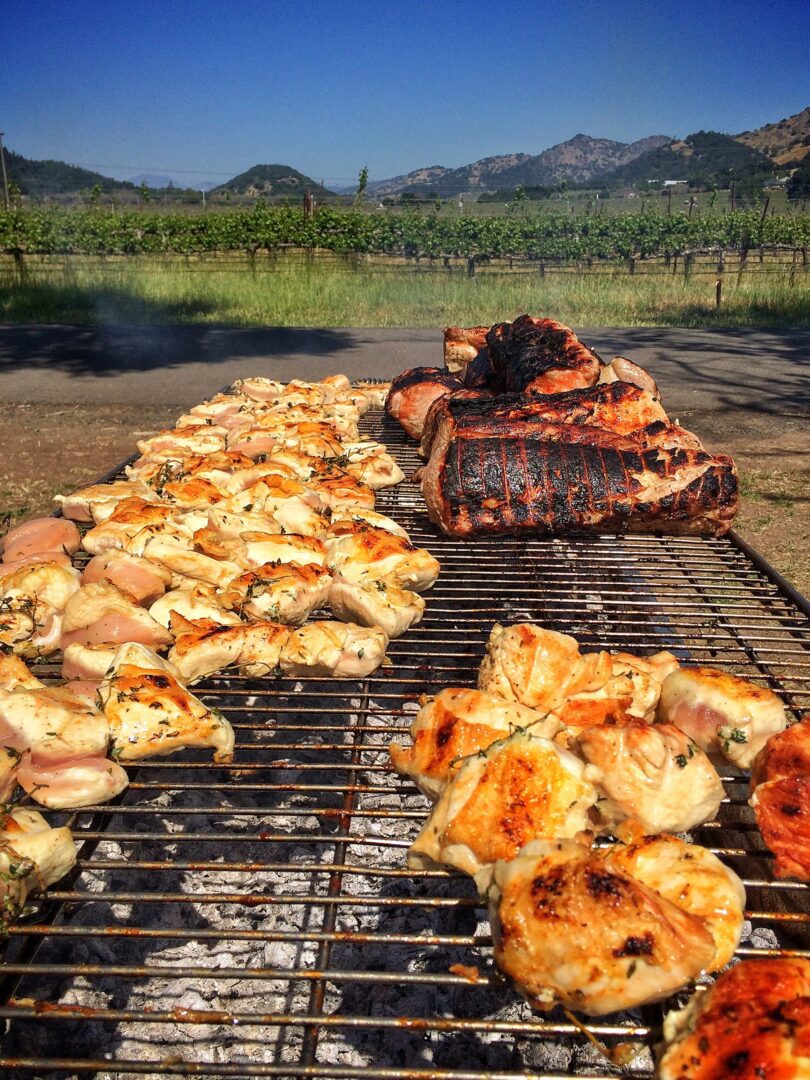 We love to cook over natural hardwoods or Lazzari Mesquite. Above is a shot of brined pork loins and marinated chicken breasts doing what they do best…. cooking slowly over smoke and fire. This bar-b-que lunch was served in the vineyard at Chimney Rock Winery just a stones throw from the Silverado Trail in Napa Valley. Notice the awesome caramelization on the pork loins. The brine is a secret but contains herbs, spices, salt and natural sugars that help with coloration and flavor.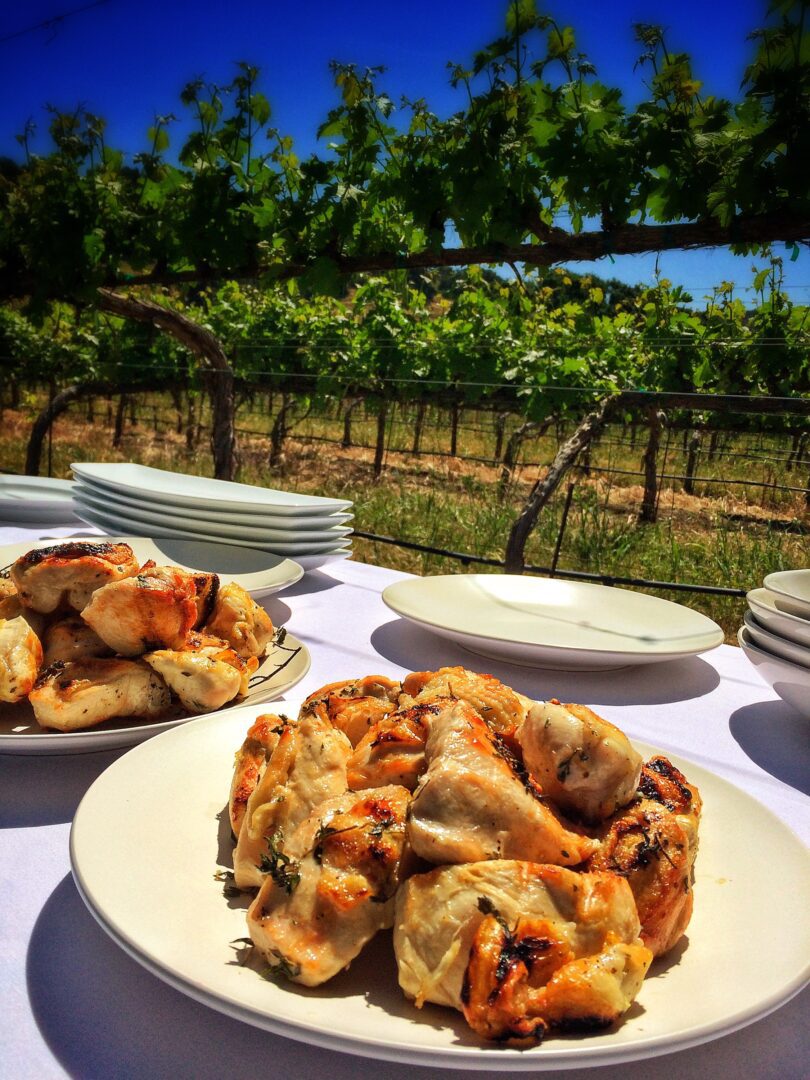 Above is a shot of grilled chicken breasts resting off the grill and waiting for their final garnish of herbs, extra virgin olive oil and Maldon sea salt.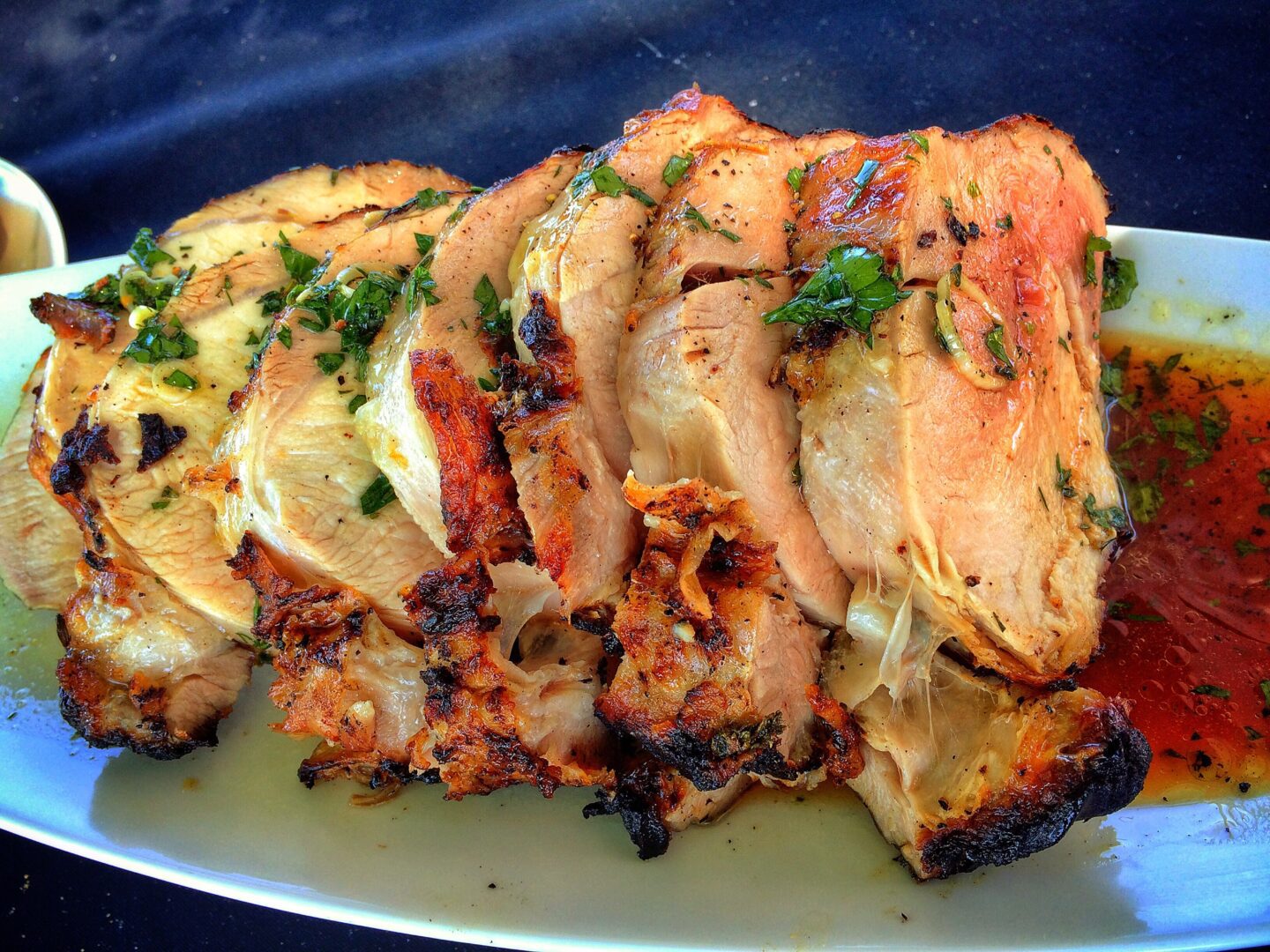 Above is a shot of grilled pork loin, just sliced and plated family-style in a pool of its own natural, smokey jus.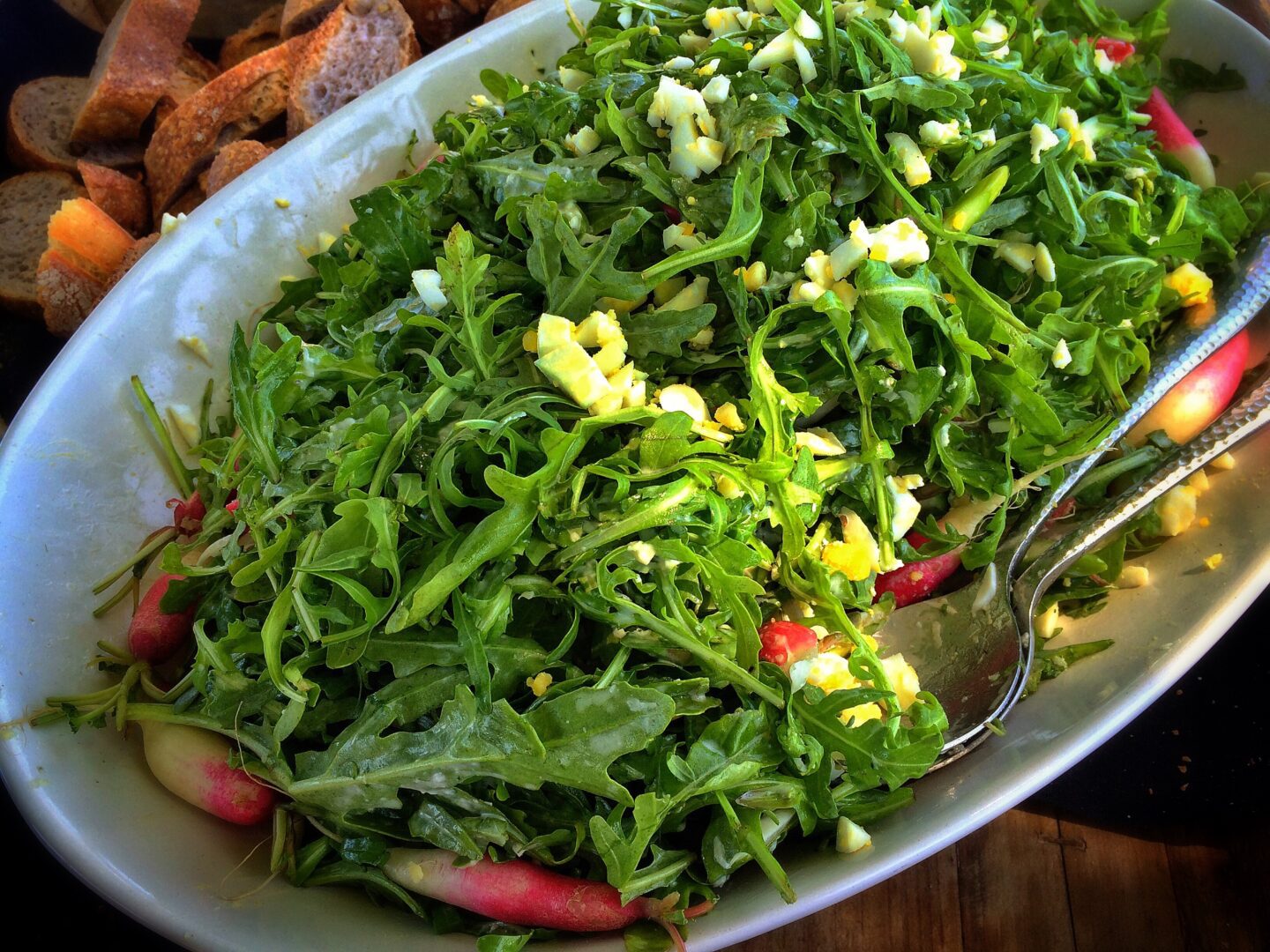 Family-style salads are perfect for a lunch vineyard bar-b-que menu. They lighten up the meal and contrast with the warm, juicy and wonderfully rich cuts of meat served. All of our offerings at BLC are seasonal. Above is a shot of Wild Arugula with Shaved Raw Asparagus, French Breakfast Radishes & Mimosa of Pasture Egg. A creamy Horseradish Dressing and lots of crusty baguette was served alongside.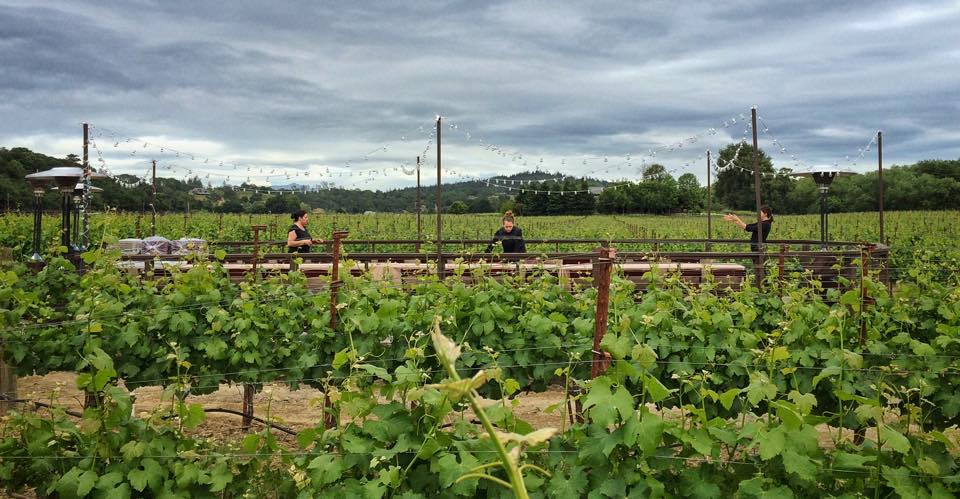 By dinner time Sonoma county sky's in Spring can turn a little ominous. That doesn't slow us down nor dampen anyones spirits. In fact it makes for a most beautiful display of light and clouds among the newly broken buds on the vine. In the shot above we are setting a table in the middle of a gorgeous Dry Creek Valley vineyard.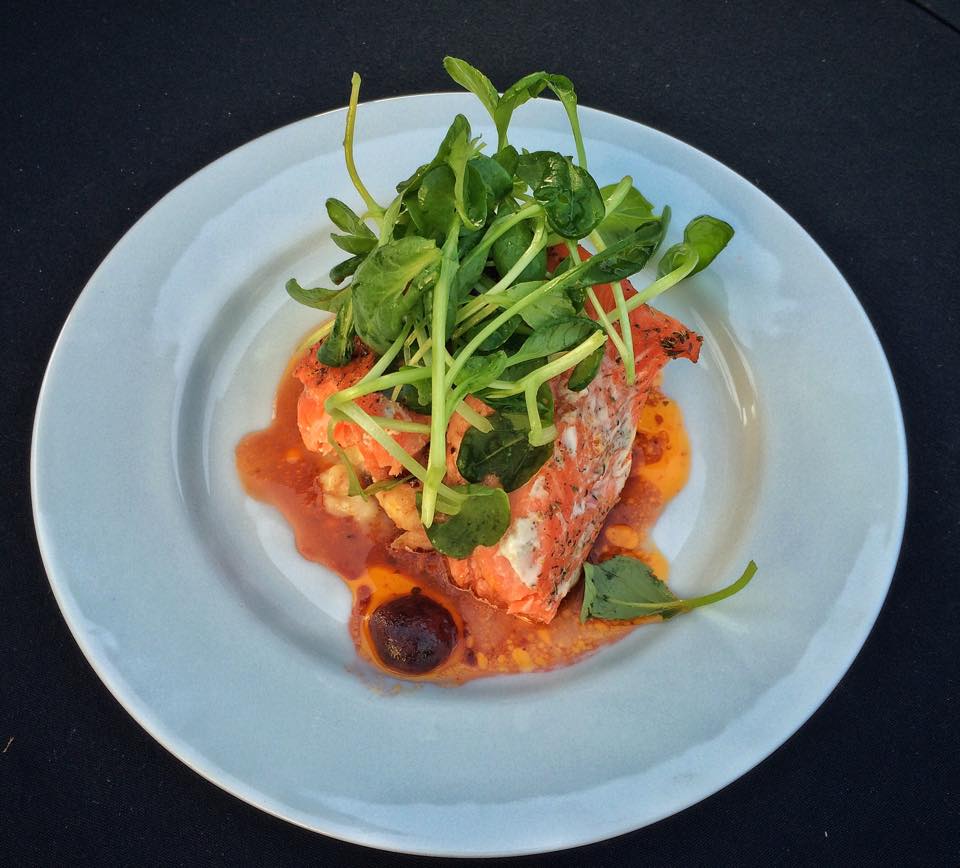 Smoked Wild King Salmon with Vanilla Whipped Potatoes, Roasted Cherry-Pinot Sauce & Baby Tatsoi always makes a big splash at the vineyard table.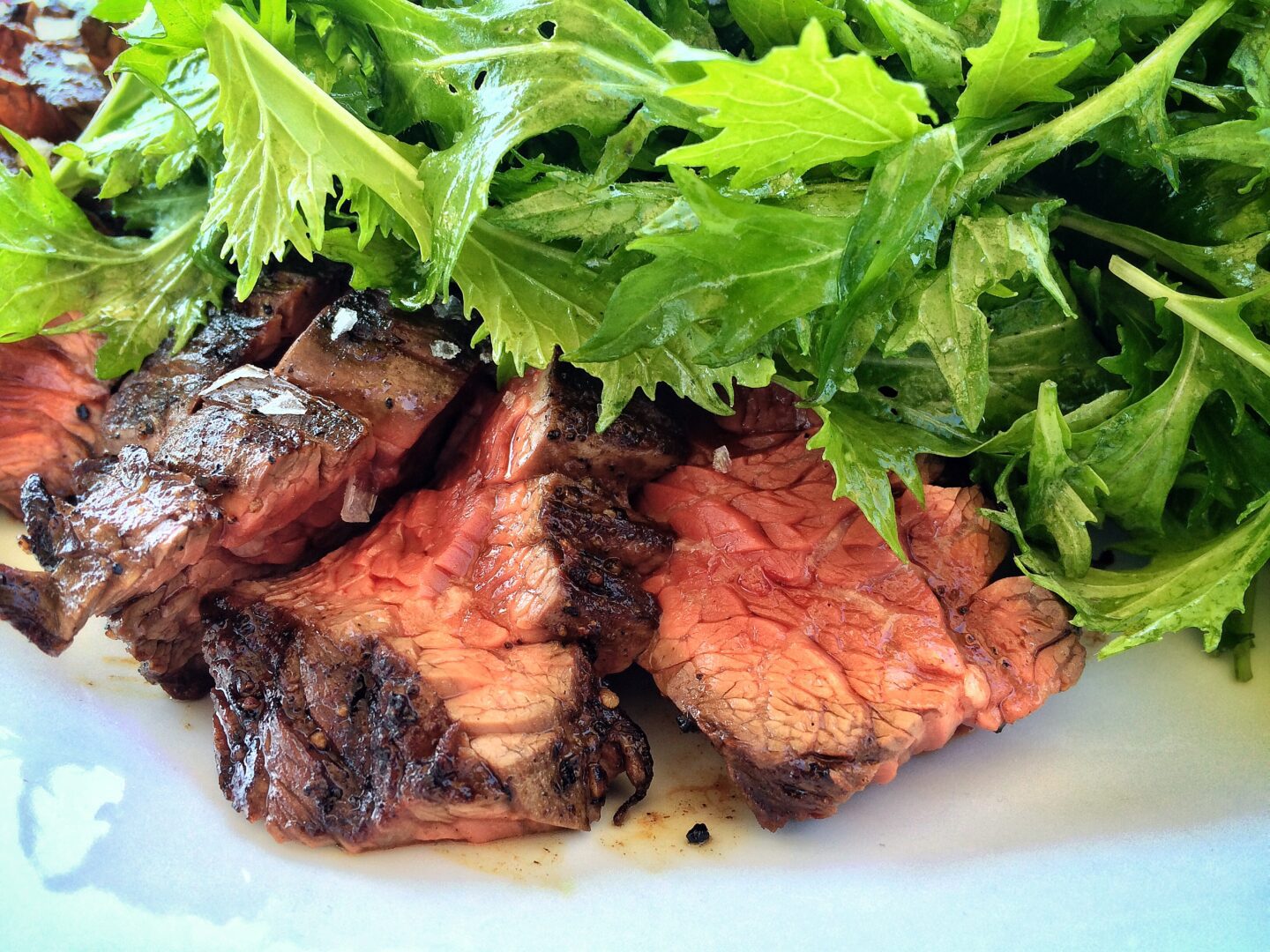 Grilled Akaushi Beef Hanger Steak Covered in Sea Salt with Lightly Dressed Mizuna, above, served family-style.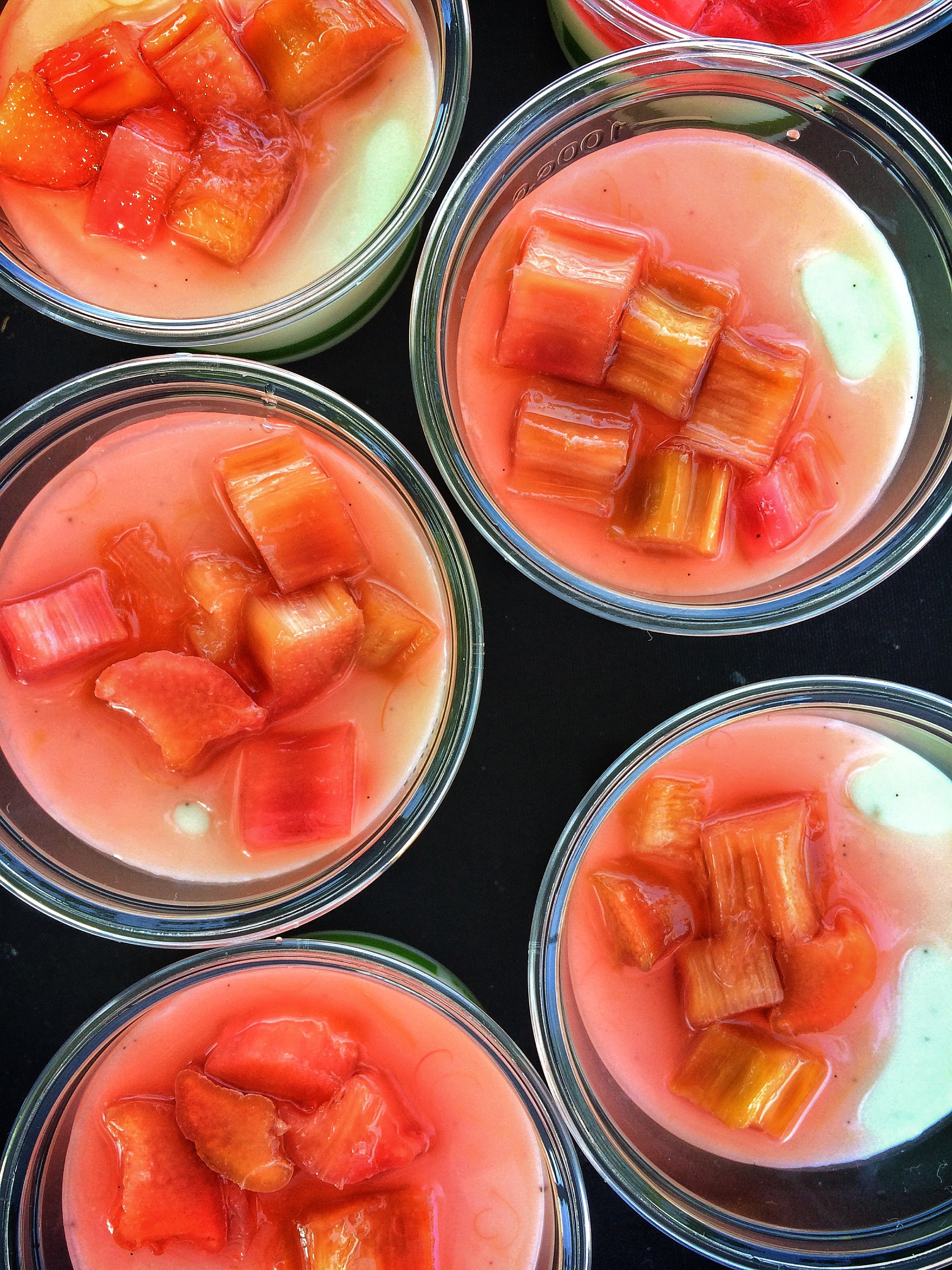 Of course a memorable meal is never complete without a sweet finish and springtime in wine country offers an array of vibrant ingredients for us to work with. The bright flavors and colors that begin to appear as the year slowly marches forward beg to be used in new and exciting ways. We at BLC cheer mother nature on as we let our creative juices flow. An assortment of miniature desserts is my absolute favorite way to end. Why pick just one when you can have three? Or four…
Pictured above is Buttermilk Panna Cotta with Vanilla Beans and Roasted Rhubarb.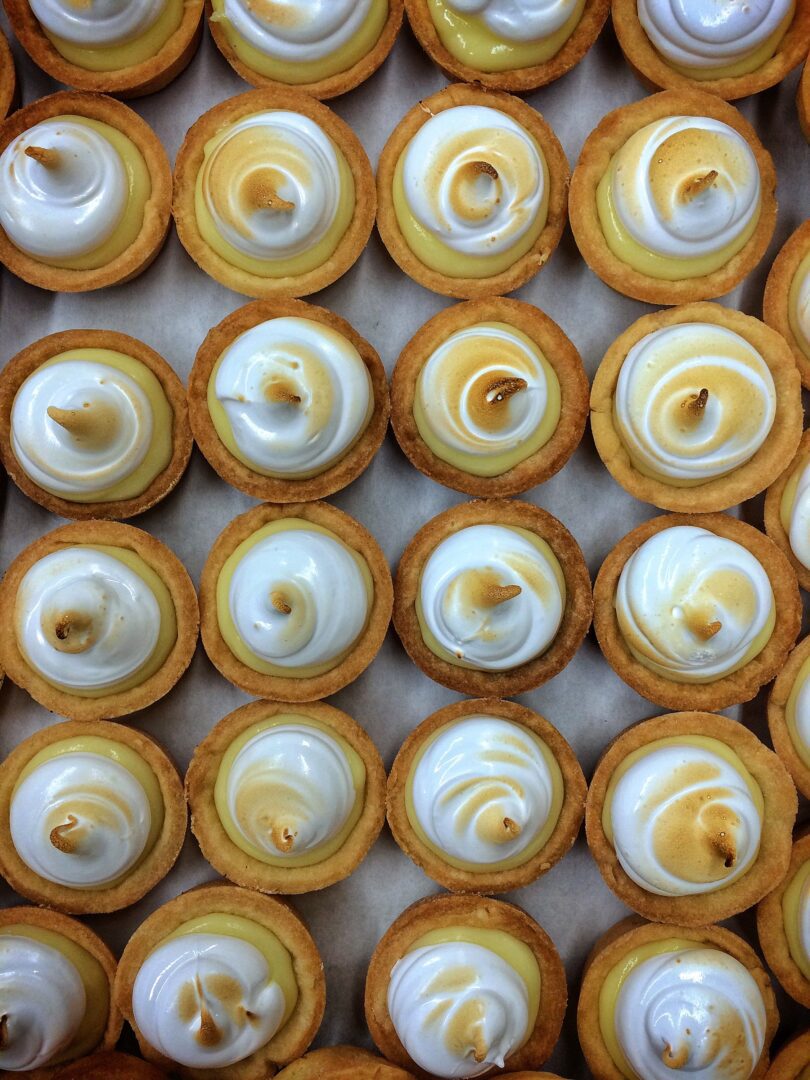 Meyer Lemons are all around us in spring. Above they have been tamed into miniature tarts with flaky, buttery crust and caramelized Swiss merengue (like biting into the fanciest and most decadent, toasted marshmallow you have ever tasted).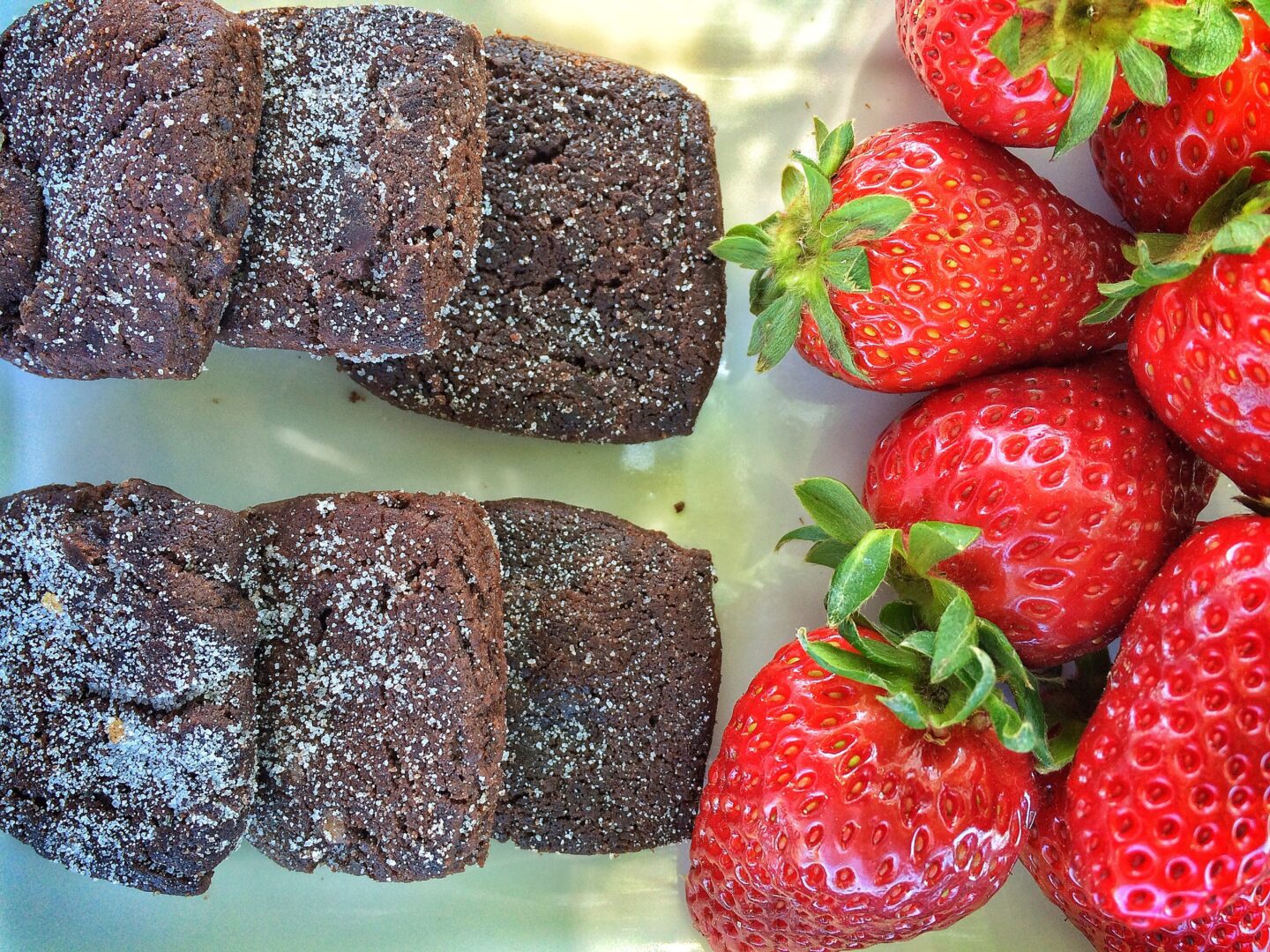 We can't help ourselves; Chocolate and strawberries are just too good to not serve up a platter of them on the table with coffee…
The shot above is of BLC signature chocolate sables and Stony Point Farms strawberries.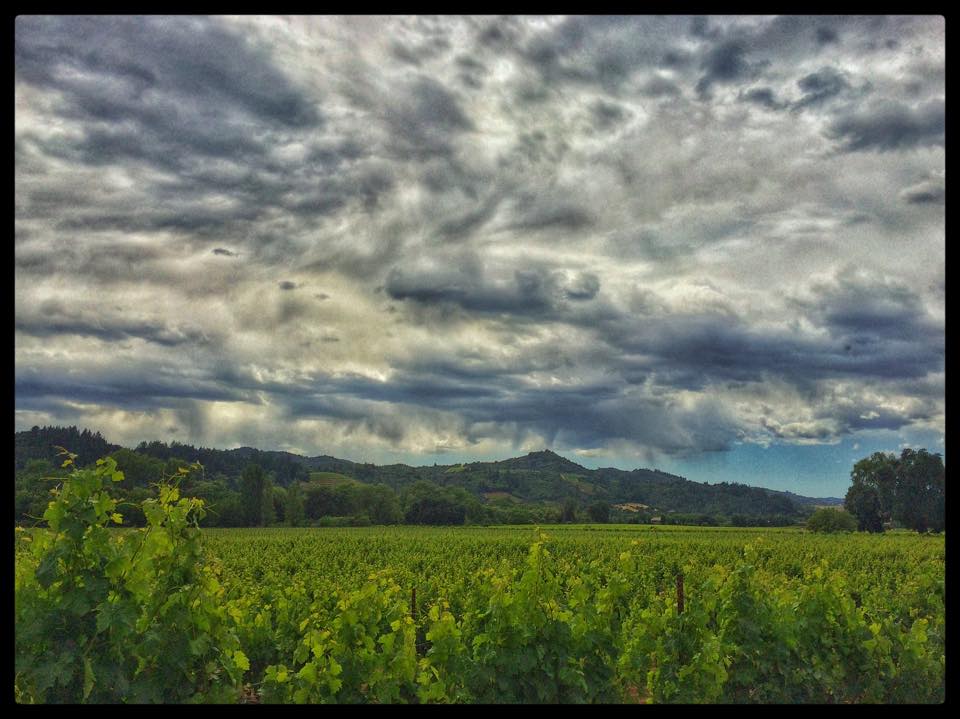 Wine country skies in spring are magnificent and full of awe.